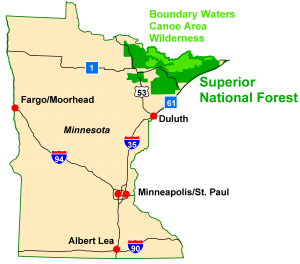 Boy Scout High Adventure Canoe Trips into the Boundary Waters have been a specialty of North Country Canoe Outfitters for over 30 years.  A Boy Scout High Adventure is a challenging outdoor experience. Each summer hundreds of Boy Scouts and Venture Crewmembers enjoy unique border lake country experience in northern Minnesota. We individually and uniquely customize each Boy Scout canoe trip to your High Adventure expectations. We plan detailed routes through the wilderness lakes. This ensures your group is able to accomplish all the intended goals. A true five to twelve day adventure is the best way to explore areas of the Boundary Waters Wilderness seldom seen by most canoe country travelers, getting deeper into the Boundary Waters.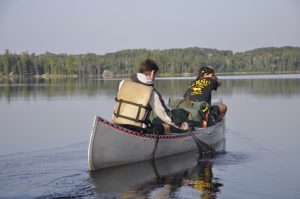 Boy Scouts have been venturing into the Boundary Waters and Quetico wilderness areas for nearly a century. Where else can the words Be Prepared be put into action in such an incredible fashion? The Canoe Country is what Scouting is all about.  Months of planning, and years of preparation are now rewarded with High Adventure. Consequently, you have the rare opportunity to experience camping and outdoor life just as it was experienced by the early native Americans and the Voyageurs. The outdoor skills that Boy Scouts have mastered are put to the test here. Here it is real; not just a troop meeting exercise.
A day of High Adventure for Boy Scout trips through the Boundary Waters
A typical Boy Scout High Adventure Trip through the Boundary Waters includes daily travel of six to ten miles per day depending on the groups abilities and canoe route chosen.  As a result, a  seven day trip might include five days of travel with two days used to maximize fishing time, or for exploring the lakes surrounding your campsite.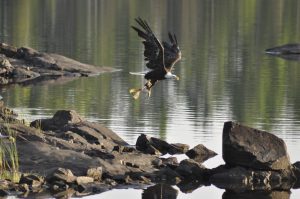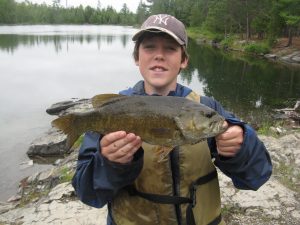 Picture a day in the canoe country: waking up to the call of a loon; sitting by a lake of glass eating fresh-picked blueberries in your pancakes; traveling close to the shoreline and spotting mink and beavers in their home environment; portaging your gear to the next lake and seeing footprints of a wolf; fishing for the cunning smallmouth bass or walleye; watching the sun set over the far side of the lake; recounting adventures of the day and planning for tomorrow, while sitting around the campfire; listening to the wind in the trees as you drift off to sleep .
---
About the Boundary Waters / Quetico Wilderness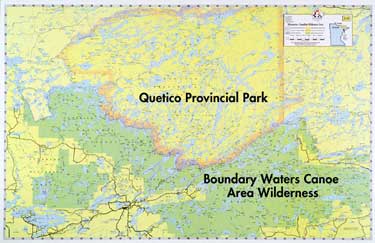 THE BOUNDARY WATERS CANOE AREA WILDERNESS
Established in 1978, the Boundary Waters Canoe Area Wilderness (BWCA) has changed little since the glaciers melted. As a result, over 1,500 miles of canoe routes, nearly 2,200 designated campsites, and more than 1,000 lakes and streams are waiting for you.
North of Lake Superior, the Boundary Waters encompasses the northern third of the Superior National Forest in northeastern Minnesota extending nearly 150 miles along the border with Canada. The BWCAW contains 1 million acres of woodlands, with over 1200 miles of canoe routes, 12 hiking trails and over 2000 designated campsites. Most importantly, this area preserves its primitive character. Therefore, it allows visitors to canoe, portage and camp in the spirit of the French Voyageurs of 200 years ago.
QUETICO PROVINCIAL PARK
Covering over 4,800 square kilometers is the Canadian half of our wilderness .  Quetico Park is the second largest Provincial Park in Northwestern Ontario. First set aside 1913, it was not, however, a protected area.  Subsequently, logging, mining, commercial fishing, and trapping still continued into the 1960s.
---
To sum it up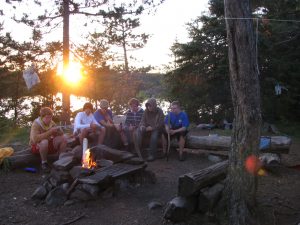 A Boy Scout High Adventure canoe trip into the Boundary Waters offers troop members more wilderness camping (3 million acres) than any other area in the country. The canoe trails leading from our White Iron Lake base are so remote that nesting bald eagles abound, the portages between our lakes are moose trails, and your Scouts are just visitors. Early Native Americans paddled these same lakes. Consequently, your crew has the opportunity to still see the ancient Indian pictographs on the sheer rock faces. This is also the land where the French-Canadian voyageurs traded for beaver pelts with the native populations, treking with their canoes heavily laden with furs.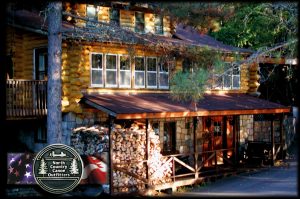 North Country Canoe Outfitters is here to facilitate your troop's High Adventure experience in the Boundary Waters. Though we must adhere to all US Forest Service and Ontartio Ministry of Natural Resources rules and guidelines, as well as our own safety procedures, we give you, the unit leadership, as much flexibility as possible.
You determine your starting dates.
You determine how many days are right for your group and your travel plans.
You determine what your group's interests are:
50-miles, fishing, advancement, etc.
You determine what requirements you want your participants to have:
age, health, Scouting skill levels, and social maturity.
We don't put up roadblocks or limitations. It's YOUR trip; we want to do it YOUR way.
Explore our total website. Request our Leader's Guide.
Give us a call at 800-552-5581, or click on the contact links.